It all started here, with this little kitten. The autumn of 1998 we went to a catshow in Stavanger. On that show we got in touch with Linda Reiersen at (N) Fodnaheia's, and she told us that her beautiful tortie-girl, Tussi, soon was going to give birth to her first litter. I still recall that day in October when Linda called us and said that two boys and two girls had been born. We were all eager to go and visit them in Ålgård!
Meeting Vilde was a "love at first sight" moment for us, and we were very happy that we could book her. She moved in sith us 3rd Christmas Day and from that day cats have been quite a big part of our family's life.
We had no intention of breeding or going to catshows in the beginning, it just kind of grew upon us...In 2000 we bougt Alessi from Linda, a great looking male. Soon our family had a hobby in common, we discussed the name for our cattery, made homepages etc. etc. Our son was at that time a huge fan of Harry Potter so he chose the name "Ravnklo" which is the Norwegian translation of "Ravenclaw", one of the four Houses of Hogwart's School of Witchcraft and Wizardry. He also made a symbol for our cattery:

Nicely done for a 10 year old! This we used on our first homepage.
Here is our first Norwegian Forest Cat, IC (N)Fodnaheia's Vilde, DM, as a grown up female. She touched our hearts and souls and was the mother of The S-litter, The Lord of the Rings' litter, The Celts, The Norse litter and The Torill's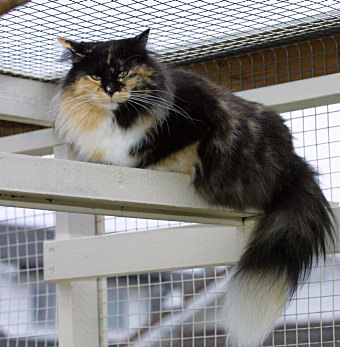 Vilde, or Tutta, died of cancer at the age of 11. Thanks to Linda Reiersen for letting us be the owners of this huge personality - and our first NFO! We are greatful to her and all the catloving people who have helped us through the years to become breeders of our beautiful national cat!
Our catteryname was approved in 2000, and we had our first litter in 2001. (N)Ravnklo NFO is a small cattery. We will try to have 1 - 2 litters a year. We both have fulltime jobs, and breeding cats demand time. I like to spend a lot of time with our kittens, it's great to get to know each and one of them, and it's great to be able to give them the best start in the world as possible. They all grow up as familymembers. Therefor we try to have kittens only when we have time for it, and we plan it carefully. We've learnt some lessons about being too busy in this "business"..., and it's really an important goal for us to be serious and honest in our work.
I'm also quite humble about the task of being a breeder of the NFOs. We learn something from every litter and surely there will be a lot more to learn. We deal with life, and I think it's important to remember what Leonardo da Vinci said: "Even the smallest feline is a masterpiece." The lenght of their tales, the expression of their eyes, the colour of their coat shall never judge the way we treat these wonderful animals.