| | |
| --- | --- |
| | The Light litter |
| | |
| | |
| | The Dylans |
| | |
| | Memories II litter |
| | Memories I litter |
| | The Fishingbanks litter |
| | The Sami litter |
| | The Shining Stars |
| | Songs and Poems |
| | The Alf Prøysen's |
| | The Astrid Lindgren's |
| | The Torill's |
| | The Miracles |
| | The Moviestars |
| | The Native Americans |
| | The Norse litter |
| | The Cartoon Characters |
| | The Celts |
| | The Lord of the Rings' |
| | The S- litter |
| | Index |

Litters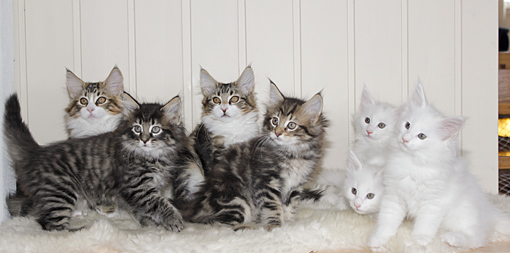 Our goal is to have 1 - 2 litters a year. The health issue is important. All our cats are tested for GSDVI and our breeding queens are or will be tested for HCM. In 2015 they will also be tested for PK-def. Our kittens are raised to become familycats, but of course it's great if they're of that kind of quality that they can breed and even go to shows. Most important, indeed, is that they come to homes where they will become the greatest family members ever!
Ravnklo's litters: 19 from 2001 - 2017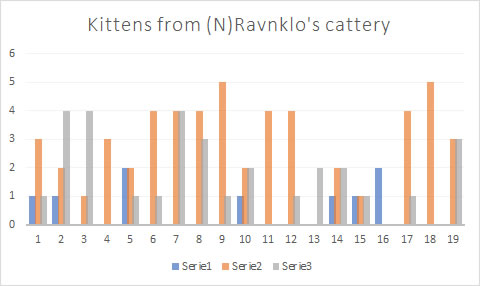 Blue: Cats who have stayed at home

Orange: Cats who have moved to families

Grey: Cats who have moved to families with catteries.
All togehter we've had 19 litters "raised" 93 kittens. 52 have been sold
to private homes (56 %),   9 we have kept ourselves (10 %) , and 32
has been sold to families with catteries (34 %).
Staying home

1

1

2

Private

3

2

1

3

2

4

Catteries

1

4

4

1

1

S-litter
2001

Lord of the
Rings 2002

Celtic
2002

Cartoons
2003

Norse
2004

Native
Americans
2005
Staying home

1

Private

4

4

5

2

4

4

Catteries

4

3

1

2

1

Filmstars
2006

Miracles
2007

Torill's
2008

Astrid Lindgren
2010

Prøysen
2010

Songs&
Poems
2012
| | | | |
| --- | --- | --- | --- |
| Staying home | | 1 | 1 |
| Private | | 2 | 1 |
| Catteries | 2 | 2 | 1 |
| | Shining Stars 2013 | Sami 2013 | Fishingsbanks 2014 |
Staying home
2
Private
4
5
3
Catteries
1
3

Memories I
2015

Memories II
2015
The Island Boys
& Girls 2017
The Dylans
2017